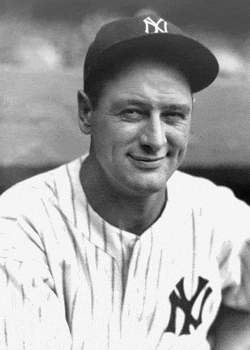 This Friday, July 4th, marks the 75th year of Lou Gehrig's iconic farewell speech when he stepped away from the game of baseball because of his struggle with Amyotrophic Lateral Sclerosis (ALS). At the time of the address in 1939, the disease was not understood nearly as well as it is today. Gehrig brought such significant attention to ALS that it is now known as "Lou Gehrig's disease."
As evidenced in his speech, Gehrig displayed exemplary character during his difficult struggle with ALS.
"Don't think I am depressed or pessimistic about my condition at present," Lou Gehrig wrote following his retirement from baseball. Struggling against his ever-worsening physical condition, he added, "I intend to hold on as long as possible and then if the inevitable comes, I will accept it philosophically and hope for the best. That's all we can do." (Source)
While there is still no known cure, there is hope. On the anniversary of his farewell, we remember Lou Gehrig for the courage he displayed, example he set, and the inspiration he still gives to ALS patients today.
THE FAREWELL SPEECH
The following is the full text of Lou Gehrig's inspirational speech (Please click here for the audio of the speech.):
"Fans, for the past two weeks you have been reading about the bad break I got. Yet today I consider myself the luckiest man on the face of this earth. I have been in ballparks for seventeen years and have never received anything but kindness and encouragement from you fans.
Look at these grand men. Which of you wouldn't consider it the highlight of his career just to associate with them for even one day? Sure, I'm lucky. Who wouldn't consider it an honor to have known Jacob Ruppert? Also, the builder of baseball's greatest empire, Ed Barrow? To have spent six years with that wonderful little fellow, Miller Huggins? Then to have spent the next nine years with that outstanding leader, that smart student of psychology, the best manager in baseball today, Joe McCarthy? Sure, I'm lucky.
When the New York Giants, a team you would give your right arm to beat, and vice versa, sends you a gift – that's something. When everybody down to the groundskeepers and those boys in white coats remember you with trophies – that's something. When you have a wonderful mother-in-law who takes sides with you in squabbles with her own daughter – that's something. When you have a father and a mother who work all their lives so you can have an education and build your body – it's a blessing. When you have a wife who has been a tower of strength and shown more courage than you dreamed existed – that's the finest I know.
So I close in saying that I might have been given a bad break, but I've got an awful lot to live for."
— Lou Gehrig
BREATHING ASSISTANCE FOR ALS
While there is still no known cure for ALS, the Avery Diaphragm Pacing System is able to provide assistance for ALS patients. The Avery Diaphragm Pacing System exercises the diaphragm in order to delay mechanical ventilation, can result in fewer infections, and is preferred by many patients due to increased quality of life.
THE AVERY DIAPHRAGM PACING SYSTEM SYSTEM
The Avery Diaphragm Pacing System System is the only diaphragm-pacing device with full pre-market approval for adult and pediatric use from the USFDA and CE marking privileges under the European Active Implantable Medical Device Directive. In addition, its system of using small implanted radiofrequency receivers rather than electrode wires that pass directly through the skin may decrease a patient's risk of infection and ongoing wound care management issues.
Avery has been commercially distributing diaphragm pacing systems since the early 1970's. Since then, more than 2,000 patients have been implanted in over 40 countries establishing an unsurpassed record of safety and reliability.