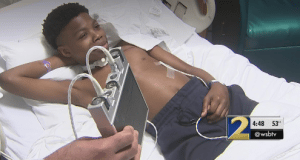 Fourteen year-old Sedarius was recently featured on WSB-TV Atlanta as the first pediatric patient to receive surgery to implant a diaphragm pacemaker in the state of Georgia.
Sedarius was diagnosed with CCHS when he was eight years old, and required a tracheotomy and ventilator to breathe while he slept. The Avery Breathing Pacemaker will allow him to breathe without the need for a trach or ventilator and help improve his quality of life. He was able to return home within a few days, and it is expected that he will be able to have his trach removed.
Dr. Ajay Kasi of Children's Healthcare of Atlanta (featured in video) was trained in the implementation of the device and the system itself at CHLA, and is currently setting up a diaphragm pacing center of excellence and has more patients currently lined up to potentially be implanted with a diaphragm pacer.