Advantages
INDEPENDENT ANALYSIS : An upcoming issue of the journal Spinal Cord will feature an analysis1 of the cost reduction associated with use of a diaphragm pacing system in place of mechanical ventilation.Physicians at a hospital run by an insurance company (BG Trauma Hospital) in Hamburg, Germany reviewed all respiratory device dependent patients from 1987 through 2006. In total 32 patients received a phrenic nerve stimulator (PNS) and 32 remained on mechanical ventilation.
Researchers report a significant decrease in respiratory tract infections following initiation of use of PNS. Additionally, they report an improved quality of speech which concurs with earlier studies2.
In their conclusion, they note that patients with PNS do not need respiratory tubes, filters, and suction catheters at a savings of about €6000 ($9200) annually. They conclude that patients with PNS need approximately one hour per day less nursing care, which equates to a savings of €10950 ($16,900) per year. After calculating that treatment of one respiratory infection at €19320 ($29,800), the costs of respiratory infections per 100 days was €74962 ($116,000) compared to only €9080 ($14,000) for patients with phrenic nerve stimulators.
1Hirschfeld S, Exner G, Luukkaala T, Baer GA. "Mechanical Ventilation or Phrenic Nerve Stimulation for Treatment of Spinal Cord Injury-Induced Respiratory Insufficiency" Spinal Cord; pp 1-5, E-Pub May 2008.
2Shea S, Hoit J. "Speech Production and Speech With a Phrenic Nerve Pacer." American Journal of Speech-Language Pathology. Vol.5, No.2, pp. 53-60,May 1996.
Reimbursement Details
Our diaphragm pacing system has full premarket approval from the US FDA for adult and pediatric patients. It is approved for reimbursement under Medicare and is therefore covered for reimbursement by most private and government insurance plans around the world. The equipment is sometimes indexed as a phrenic nerve pacemaker, diaphragm pacemaker, or electrophrenic respiration.
*Systems are available in a variety of configurations depending on the patient's needs. Additionally, custom components and conversions from other systems are also available. Please contact ABD for an appropriate price quotation.
Return On Investment Illustration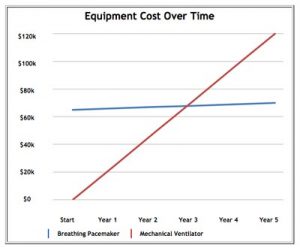 A typical ventilator-dependent patient rents two mechanical ventilators, one as a primary and one as an emergency backup. These machines require a substantial amount of disposable supplies to operate correctly and safely. Once pacing, this patient is able to eliminate one of the ventilators, keeping one as an emergency backup, and eliminating a significant portion of the associated supplies.
Assuming annual replacement of external antennas, monthly replacement of batteries, and incidental supplies (tape, alcohol preps, etc.) a diaphragm pacing system will cost less than $1,000 per year to operate. Rental of a mechanical ventilator and the costs associated with its disposables ranges from $1,500 to $2,500 per month. Therefore, the implantation of a diaphragm pacing system will typically have an ROI of 3-4 years, and save $18,000 to $30,000 per year thereafter.
While this example does not factor in the hospital costs, physicians fees, etc. associated with the implantation, it also does not account for any hospitalizations eliminated over the course of the patient's lifetime through the reduced infection risks associated with diaphragm pacing.