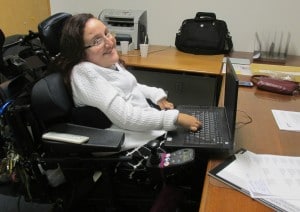 Avery Biomedical Devices (ABD), manufacturer of the Avery Diaphragm Pacing System System, is pleased to announce the appointment of Nicole Ficarra, as our Communications Coordinator.
Nicole will be responsible for coordinating our efforts to bring awareness of the Avery Diaphragm Pacing System as an alternative to mechanical ventilation for those with quadriplegia, central sleep apnea and diaphragm paralysis.
She is a recent graduate of New York Institute of Technology having received a Bachelor's Degree in Advertising. Nicole has worked for the Suffolk County Legislature as a Social Media intern as well as for Cohen Children's Medical Center through the NYIT Carleton Group.
"I am very excited to bring awareness to the Spinal Cord Injury community as well as to others who may benefit from the Avery Diaphragm Pacing System. This is going to be a great experience and I look forward to what's to come," stated Nicole.
Nicole has first-hand knowledge of the Avery Diaphragm Pacing System having been implanted at age 11 because of a high Spinal Cord injury sustained at age four from an automobile accident.
"We are thrilled to have Nicole join the Avery team. Her inspiring enthusiasm will greatly help in furthering our efforts to reach those who can benefit from the Avery Diaphragm Pacing System," noted Linda Towler, CEO of Avery Biomedical Devices.
About ABD
The Avery Diaphragm Pacing System System is the only diaphragm-pacing device with full pre-market approval from the US FDA and CE marking privileges under the European Active Implantable Medical Device Directive for adult and pediatric use. In addition, using small implanted radiofrequency receivers rather than electrode wires that pass directly through the skin may decrease a patient's risk of infection and ongoing wound care management issues.
Avery has been commercially distributing diaphragm pacing systems since the early 1970's. Since then, more than 2,000 patients have been implanted in over 40 countries establishing an unsurpassed record of safety and reliability.