Longest Living C1-C2 Quadriplegic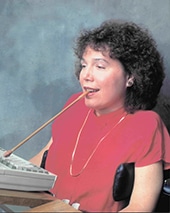 It is with great sadness, yet immense reverence, that we report the passing of Kathleen DeSilva, one of the first persons implanted with The Avery Diaphragm Pacing System. Kathleen passed away on August 7, 2015 at the age of 63 with her beloved husband of 31 years, Peter Simmons, by her side.
She was the longest living C1-C2 quadriplegic having suffered a spinal cord injury in a gymnastics accident when she was only 16. Paralyzed from the neck down and told she had between three months and two years to live, Kathleen, who dreamed of becoming a doctor in order to help people, refused to believe that this was her fate. She was determined to achieve her goals, even if it meant slightly altering them along the way. She changed her goal of becoming a doctor and became a lawyer instead. But her dream of helping people never changed.
In 1971, she was implanted with the Avery Diaphragm Pacing System, went on to Rice University and then University of Houston Bates College of Law where she graduated Magna Cum Laude.
After receiving her law degree, she dedicated her life advocating for the rights and protections of others. She worked as a lawyer for TIRR-Memorial Herman Hospital in Houston, which treats patients with brain and spinal cord injuries. She also served on the Metropolitan Transit Authority Board where she focused on addressing the issues and problems of the disabled.
In Kathleen's own words, "I was very much a product of the sixties." She was a strong believer in women's rights and equality. She worked tirelessly to help people with disabilities—long before the passage of the Americans with Disabilities Act in 1990.
For her extraordinary contribution and outstanding courage, she was featured in a 1984 Esquire magazine cover story along with Hillary Clinton, Steven Spielberg and others, "The Best of the New Generation," which showcased those under 40 those who were changing America.
She showed the world that nothing is impossible if you truly believe in your dreams. She will be missed.