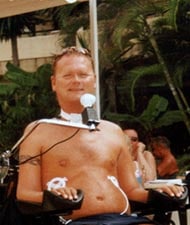 In 1998, Jamie was a professional cricket player with the Yorkshire County Cricket Club. While attending a tournament in Cape Town, South Africa, he was involved in automobile accident which left him a ventilator-dependent quadriplegic.
Upon his return to the U.K., Jamie was cared for at the Yorkshire Regional Spinal Injuries Centre at Pinderfields Hospital. He was implanted with his Diaphragm Pacemaker in February 1999 and has been pacing ever since.
Jamie states "Now I am really getting on with my life — watching cricket, coaching adults and children and enjoying regular holidays abroad. Without the pacer, I would not be able to do any of these things… It's the best thing I have ever done."
The Avery Diaphragm Pacemaker is an implanted phrenic nerve or diaphragm stimulator. It consists of surgically implanted electrodes and receivers with an external transmitter and antennas. To learn more about the benefits of the Avery Diaphragm Pacemaker, please contact us by mail, phone, or through our website.
Source: ABD-PP-020, Rev B 06/2021